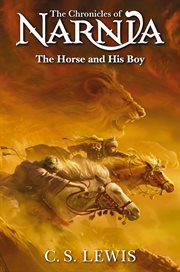 The Horse and His Boy by C. S. Lewis
It takes place during the Golden Age of Narnia, with the Pevensies ruling at their peak. The two main characters and horses are escaping from Calormen and travelling north of Narnia. On their travel, they learn of the Prince of Calormen's plan to overtake Archenland. They then have to race the Calormen to Archenland in order to warn the King of Archenland of the incoming attack.
Although the story is set in the countries to the south of Narnia (Calormen and Archenland), which gives it a quite different experience then the previous books. I always find the visual imagery and the feelings of each character as they evolve fascinating. But he revived his deceitful, dirty, turban-clad race, the Calormen. A lost fair skinned boy grew up among them and he is depressed until he is finally reunited with the beautiful, white, and kind people of Narnia. His representation of the people of Calormen is dreadful . When he says "Calor-men", by calor is he implying people of the hot countries or is it the not inconspicuous way of indicating colored people? However, the descriptions reveals it all; the people are described as dark skin, wears turbans, and savage slave owners. Their leader is a dishonest war-dealer. This land and its people are consistently compared against the fair-skinned, wise and free-thinking people of Narnia and Archenland. However, all of this could be seen from another point of view. Lewis may have been trying to describe the life as it was years ago in that area. There were slavery in those communities too as it was in the western world, and there were child marriages in their society. Besides that, the story came off strongly and all the scenes and visuals are really detailed. I still really enjoyed the story and how it was different from the first two and I rate it 8/10.