Every Last Word by Tamara Ireland Stone
Every Last Word is a fantastic novel for people who often find it hard to calm down from a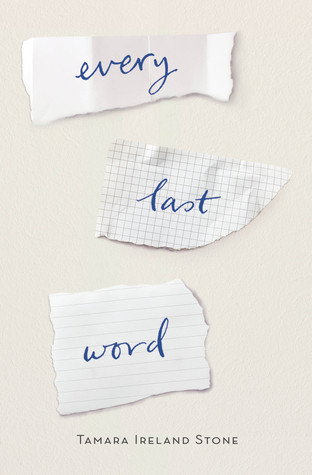 fight, an argument, or even just from crying. I probably flooded my room after reading this book; I was crying so hard. But anyway. On to the book. First of all, I HATED Sam's (the main character) friends. They're the "OH-MY-GAWD-I'm-So-Pretty-And-You-Are-So-Not" kind of 'friends'. Like, really? I was having my doubts about this book right then and there. But then, things got a whole lot better. Majorly. Caroline appeared. I freaking loved Caroline so much I wanted to crawl into those words and hug her lungs out.
~ EXTREME SPOILER ALERT!!!!!!!~
I cannot legitamately believe she's not actually real, though. Literally. I think I have trust issues now. 🙁 AAARRRHH!!! WHY DO THE BEST CHARACTERS END UP BEING A FAKE OR SOME KIND OF A CREEP? MY HEAD IS GOING TO POP OPEN AND STEAM IS GOING TO POUR OUT AND…!!!
~EXTREME SPOILER ALERT OVER~
Now that I'm done with my rage fest, I'll ACTUALLY start describing the book. So, Sam (Samantha, but she likes to be called Sam) has this group of friends who are all really popular-so, obviously, she's also part of the 'popularity' squad. But her group has no idea that Sam has OCD, and is constantly being controlled by her mind, thinking dark thoughts that she can't turn off. But that's when she finds Caroline, a mysterious but spunky girl who tells her about a secret poem club, Poet's Corner. Sam is drawn to them, but especially the guitar playing guy called AJ. He is romantic, cute, mysterious, and most of all, honest. He ends up developing feelings for Sam as well.
I wanted to bash this book against the wall at the start, but then I wanted to buy 100 copies of it near the end of the book. I loved it! Although it made me sniffle a little, okay. A LOT. I couldn't put it down, even if I wanted to (And trust me, I only put it down if I was hungry or thirsty). Even then, I would continue reading chapter by chapter, ensuring myself that I WOULD finish this book today. And what do you know? I DID! (sadly….) 🙁 I wanted this book to go on forever…..Read it guys! You'll fall in love with the mysterious and charming AJ, and feel depressed for Caroline all the same. I just adored it so much! 🙂 🙂 🙂 🙂 🙂 🙂 🙂 🙂 !!!