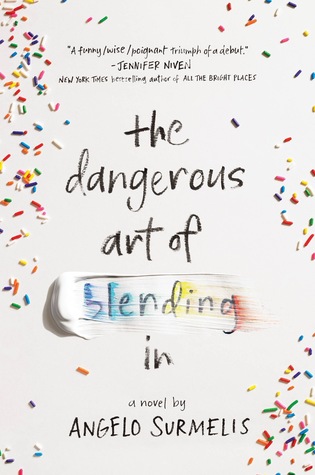 The Dangerous Art of Blending In by Angelo Surmelis
I knew it was going to be an emotional one but  the ending basically had me feeling at least 1000000000 things all at once which is RIDICULOUS, because we only have 5 senses. I spent the entire afternoon reading this and it really broke my heart. This book is brutal and devastating. If you can't handle abuse and hard beatings, well, this book will not do well with you. Books like this hit me right in the heart, because the stuff that happens in this book happens every day in real life. It might be happening in your classmate's, or your neighbours home, or your best friends home. It is a book about a boy named Evan who is gay. Like, straight-out. But his mother doesn't take this information really well. In fact, she despises him for it. So the abuse continues.
This book slammed itself right into my arms. I'm not even kidding. When I was browsing the teen sections of the library, I found this book and decided not to read it. But after, however well I placed it, the book would continue falling off the shelves, so I was exasperated, and checked it out.